How can you treat me like this? I was one of your first!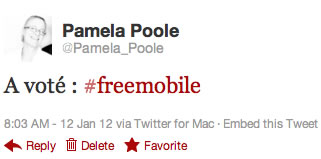 I'm a devoted fan, a certified geekette, a tech blogger… And already a Free client for Internet and TV.
I linked to Meet France's New and Awesome Super Angels in my post Never Mind the Valley: Here's Paris on ReadWriteWeb!
From the day I heard you were applying for the fourth license I was rooting for you. I knew the oligarchs would do whatever they could to keep you out of their club. Then you got the license! And I waited and waited for you to launch your mobile service, knowing that when it happened, I would make the switch, even if it meant buying my way out of my old contract…
I watched your live announcement of the Free Mobile services on TV. The whole thing! I had tears in my eyes when you got to the part about the low rates for poor people.
Read the rest of my letter to Free Mobile on frogblog.